Lots of exiting is going on at Knowit Decision Gothenburg. We are looking forward to what 2018 will bring with new colleagues and many exiting business opportunities. Now when we have expended our team and it will be an incredible opportunity to show or excitement around digitalization and technology even more.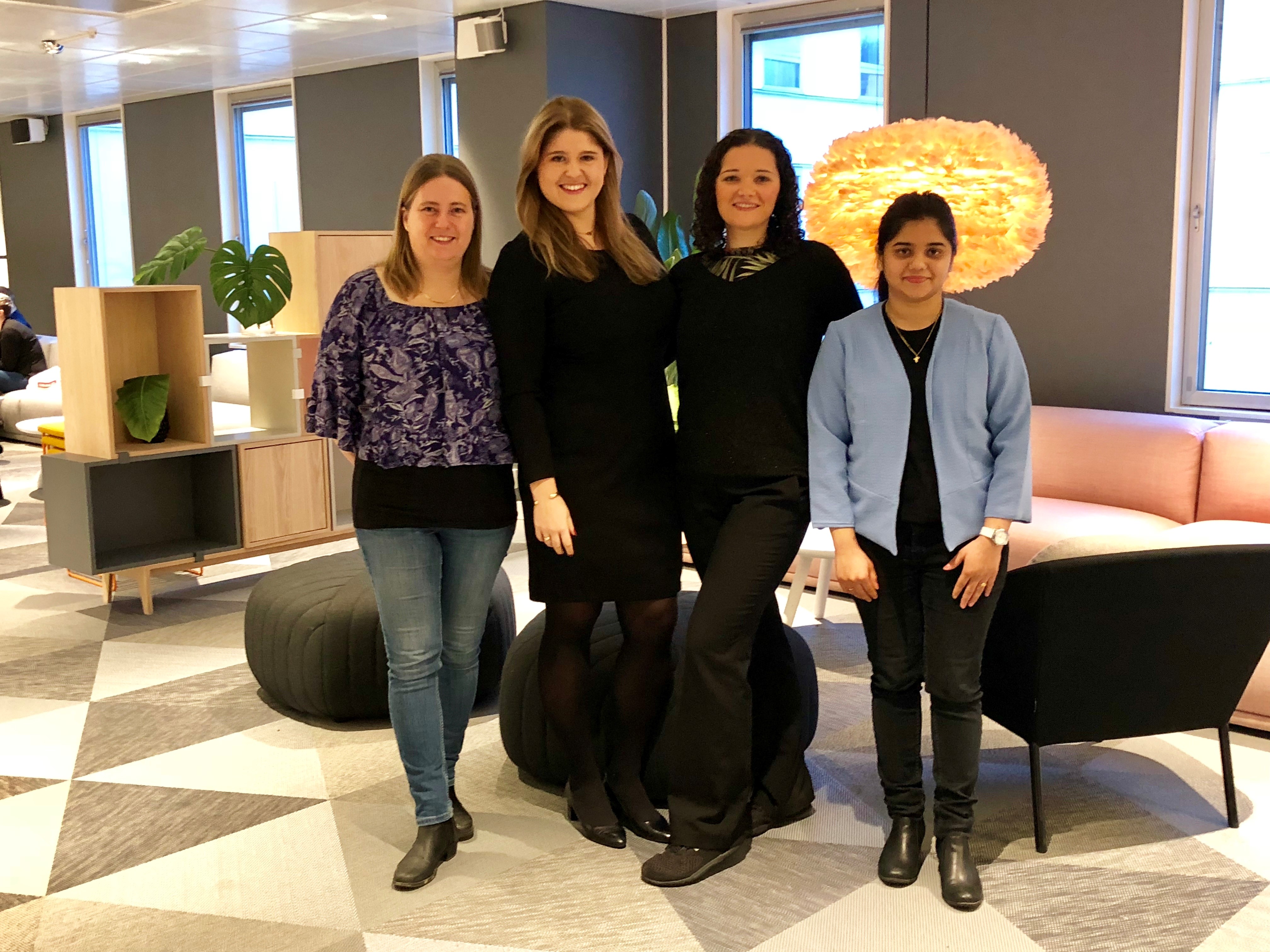 Monica, Karolina, Suzy and Reena
My name is Karolina Nordin and is me who writing this post. I'm new at Knowit as Sales and marketing assistant. Its med who will be posting on this blog from Gothenburg. My job will be working with events, recruitment, telemarketing and social media. For a month ago, I graduated from a sales school in Stockholm called Arndt´s Sales Academy. A private school where we studied sales and personal development 12 hours a day. Now I have moved back to Gothenburg to start my carrier at Knowit Decision. I´m interesting in how our society is getting more and more digitized and I want to be a part in how the future will look like for my generation. I'm excited for what the future will bring. If you want to come in contact feel free to contact me and I will help you.
I will give a warm welcoming to my amazing and competent colleges to Knowit Decision.
First will I welcome our new consultant manager, Monica Andreasson and her is a few words from her:
- I will be working as a Consultant manager at Knowit Decision and with sale of Analytic projects. My special interest is personal development and change management. I'm looking forward to work more closely to our data scientist. I have competence in Microsoft BI stack and Qlik with I hope will com in hand at Knowit.
Welcome Reena Thakre, she has been working with us as a senior consultant a few months now and she really showed us her impressive skills and competence:
- Hi, I am Reena Thakre, joined Knowit Decision Group in December as the Salesforce Consultant and was previously working with IBM. Currently I am working on the design and development of our Knowit Decision CRM application on Salesforce Platform along with Anders Källman for managing the Sales and Campaigns of the organization. Meanwhile I am also enhancing my salesforce domain knowledge on Service cloud and recently done with the certification on the same.
Welcome Mattias Wikström, he is our new senior consultant and its an honor to have you in our team with your competence and personality:
- I work as a senior consultant focusing on advanced analytics and the cloud. I have long experience from the infrastructure side of things and have been working as a cloud solutions architect before. Right now, I'm involved in a project working with Azure Data lake and Data factory which is really exiting but I'm also looking forward to getting more involved in the analytics parts.
Welcome Suzy Jones, she has lots of knowledge in data scientist and with Suzy in our team it will be more opportunity to analyze data:
- Hej I am a data scientist and I will use my skills in python/R/IDL to clean, transform and analyse data with different statistical methods and models. While interesting projects are being formed, I am currently acquiring a certificate to be a Tableau Qualified Associate and soon will be a Tableau Certified Trainer. I am very excited to be part of this team and look forward to the future projects. Before I was a postdoctoral researcher at Chalmers University of Technology in astrophysics. Using statistical methods and models to analyse galaxies in relation to their blackholes and environments.
We have lots of different competencies and personalities will 2018 be an exciting year with lots of opportunities to get our society to become more digitized and closer to what the future will bring us.
Feel free to contact me:
Karolina Nordin
Mobil: 0706771910
E-mail: karolina.nordin@knowit.se